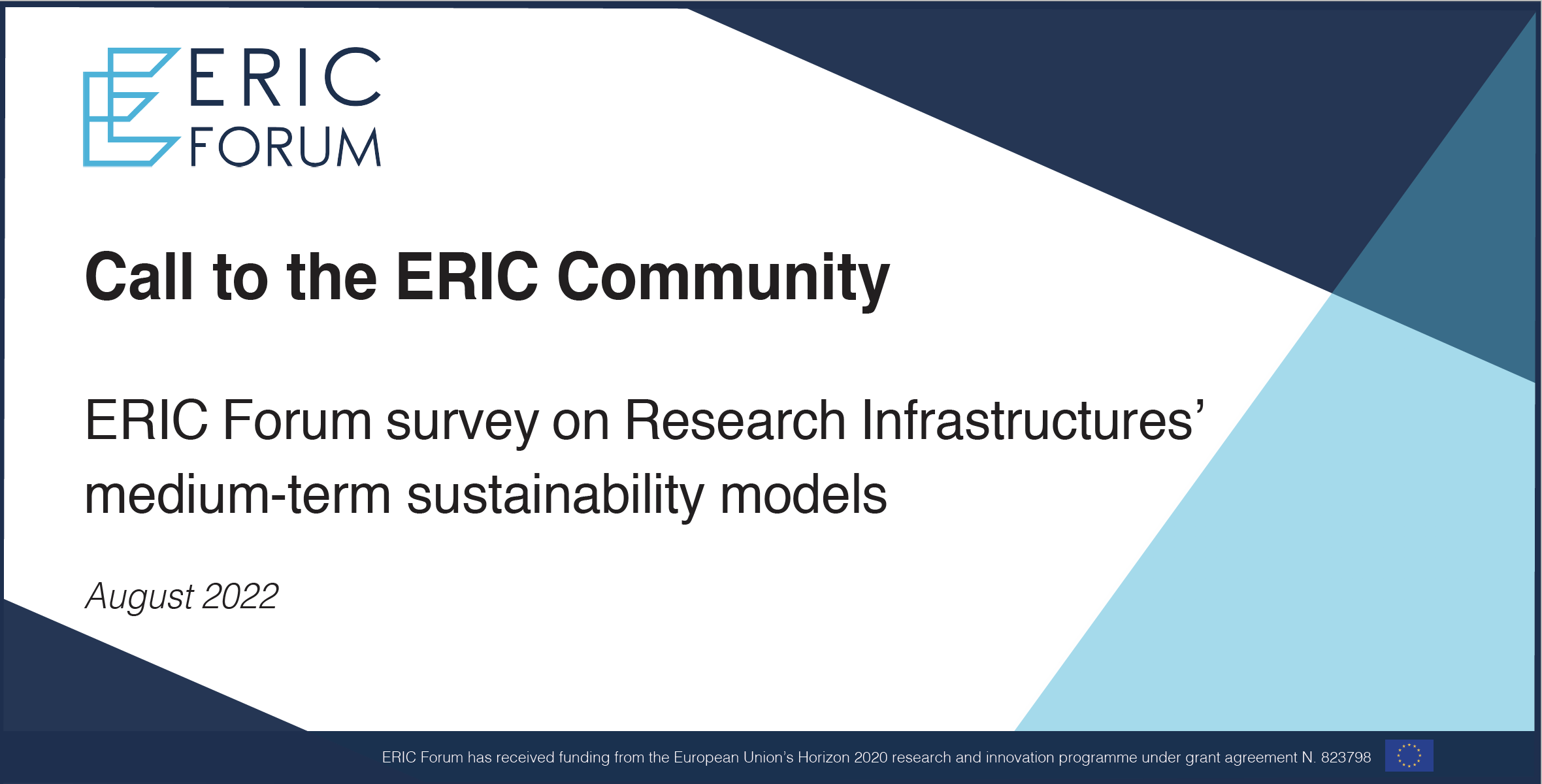 WP4 of the ERIC Forum Implementation Project (Evaluation and Impact Assessment) is mapping out and supporting the shaping of the medium-term sustainability planning in European Research Infrastructures Consortia.
► For that, we invite the managerial staff of either established or preparatory-phase ERICs, to submit their input in this survey.
The preliminary results and recommendations will be presented at the upcoming ERIC Forum General Assembly Meeting, in October 2022.
–
Abstract
The sustainability of any ERIC business model rests on the basic assumption that the value generated by the RI shall exceed the value of the investments and contribution sustained by the public entities supporting the initiative. However, while the commercial output of an ERIC is becoming a requirement by the public investors and an element of the RI's income, the assessment of the value generated by an ERIC needs to account, at least qualitatively, for their fundamental mission, which is the delivery of scientific breakthrough, new knowledge and education.
With the following questionnaire, the ERIC Forum project (task 4.4) sets out to explore the ERICs sustainability models, with the objective to provide a light strategic management tool for RI managers to prepare, analyse and strategically manage their business. This instrument shall also serve as an educational tool for managers and stakeholders of RIs in their preparatory phase.
 
Preliminary results and recommendations for the RIs medium-term sustainability planning will be presented at the final project General Assembly (11-12th of October 2022). The principles presented shall be applicable to all ERICs, regardless of their scientific background. The approach is intended to be a blueprint for the strategy of the ERICs, an educational tool to provide common language and understanding how the business model of an ERIC may work. The reference model will take into consideration that existing ERICs vary in their maturity and scientific focus and will focus on unlocking the innovation potential of RI, and structuring the international outreach of RI.